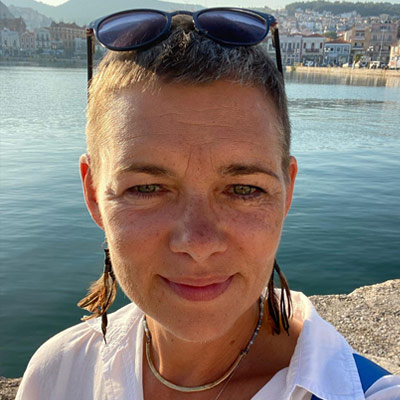 Greta Paulauskiene
Greece, Lithuania, Portugal
Constant change and movement are the key ingredients in Greta's perception of life. To create balance between her body and mind she embraces new lifestyles, ideas and challenges.
After a master degree in International Business Management, Greta spent more than 20 years in the international corporate world, starting her career in media and advertising business and ending up being marketing and product portfolio manager with international responsibilities in pharmaceutical company.
Although, for her, the biggest achievement is being a mother of 27 years daughter who grew up into a beautiful and loving human being.
In 2016 she joined the "Who Is In? – Awareness Intensive" and that is where the life changing shift has happened. It led her to pursue a life connected with meditation techniques and meditative therapies. Since then she is continuously learning and deepening her knowledge about different ways of keeping a healthy balance between the body and mind.
She is a certified practitioner of the new Energy Healing System From Separation To Unity (FSTU) and an Active Meditation facilitator.
Greta has been also trained in OSHO Meditative Therapies of No Mind and Born Again, Conscious Coaching & Mentoring (CCM) and Bodhi Medicine Training Part One.
She continues being part of these trainings as assistant, taking the opportunity of deepening her experience, understanding and supporting others in their journey. She is also a main assistant at Die Before You Die – The Art of Let Go